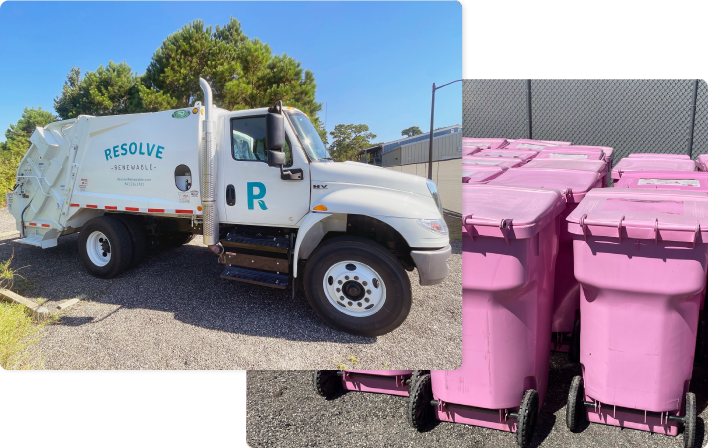 Easy Reliable
Weekly Trash Pickup
Trash pickup has never been any easier. And with the quality local customer service we provide at Resolve Renewable, you won't have to feel frustrated with your trash pickup service again. What we do is simple. You sign up and we provide you with a 95-gallon cart for your trash. In fact, upon request, we are happy to provide you with multiple 95-gallon trash carts if you need them. Then, once a week on your assigned trash day, we will come around and collect all the trash you have left out.
Sounds like any old trash company, right? Wrong! Though our basic trash pickup service is similar to other trash pickup companies, we can provide you with an experience like no other. If for any reason you run into any issues with your trash pickup such as having extra trash, a large item you need to dispose of, or you accidentally forgot to put out your bin one week, give us a call! It is our mission to provide you with a positive waste collection experience. We are a local company that cares about your needs and wants to help Resolve any issues you run into. Sign up today! We look forward to serving you.

Sign up.
Signing up for our service is easy. Simply click on this link, fill out the form, and be on your way to having a better trash pickup experience. Want recycling pick up? Sign up and schedule your service as well. Have bulk items or yard waste? No problem. Give us a call and we will schedule your items to be collected. And don't forget to discontinue any trash pickup service you've previously had! Have a question? Let us know!

Take out your trash.
We will bring your 95-gallon cart to you. Then, each week all you have to do is fill it and leave it out for us curbside. Continue on with your day and we will be there soon to pick it up!

We pick it up.
On your assigned pickup day, we will come to your home and collect all the trash and recyclables you have left out on the curb in your bin. We don't anticipate there being any problems, but if you experience any issues, give us a call, and let's get your problem solved.